Chevrolet Silverado 1500 Greenwood IN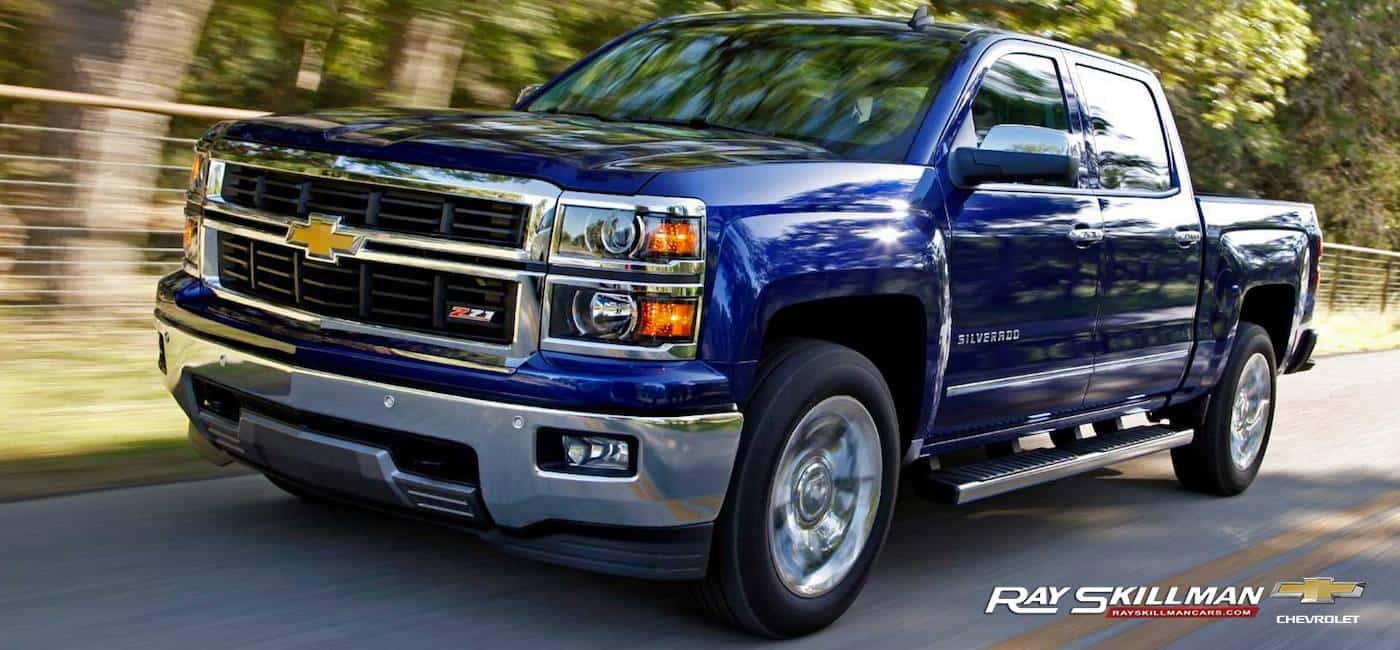 Comfort Where You Want It, Power Where You Need It
The all-new Chevrolet Silverado 1500 has everything you could want to get the tough work done, and the amenities to keep you comfortable while doing it.
Buying a truck used to mean compromise. Towing power could only be harnessed through a truck, and comfort was something you could only get in a sedan. Chevrolet is changing the game with the Silverado 1500. This powerful truck offers ultimate comfort so you get both. Ray Skillman Discount Chevrolet is proud to offer Silverado 1500 to our Greenwood, IN customers.
Ray Skillman Discount Chevrolet knows our customers love the Chevy Silverado 1500 because they need a truck that is capable, dependable, and reliable. Some of our customers even use Silverado as an office at the job site. Whether you use your Silverado 1500 for tough jobs, or for recreational fun on the weekends, this tough truck has you covered.
You work hard on the job and you deserve comfort at the end of a hard day. Let the Silverado 1500's heated leather seats with multiple settings soothe your aching back after a day of heavy lifting or building so you won't have to take a pain reliever when you get home. The power adjustable driver's seat gives you ultimate comfort, while the comfort of the leather seat envelops you making the drive home so much more enjoyable.
Listen to your type of entertainment on the ride home with over 150 channels of talk, news, sports, and music radio options on SiriusXM. Let your mind drift away and escape your hectic workday as you listen to your favorite station.
Ray Skillman knows you need your Silverado to be powerful. Your daily job may require it, or you may want power for all your recreational toys. Either way, Silverado has you covered. With the capability to tow up to 12,500lbs, Silverado's 6.2-liter V8 engine gives you 420 horsepower and 460lb-ft of torque. That is one powerful truck. Silverado is the one truck that is ready to work hard during the week and play hard on the weekend.
Silverado gives you complete control over your towing experience with features like Hill Start Assist, Auto Grade Braking, Tow/Haul Mode, and Integrated Brake Controller. You can even connect your trailer with ease with Silverado's Rear Vision Camera.
You need a hard-working Silverado 1500. We have yours waiting for you at Ray Skillman Discount Chevrolet. With over 140 Silverado 1500s on our lot at any given time, you are sure to find the one that meets your needs. We have a variety of Silverado models for you to choose from so you won't have to go anywhere else to find the truck that fits you. We also have various colors and options for you to choose from too.
Did you know we're able to help you customize your Silverado so that it is capable of handling your day-to-day work needs? Let us add genuine Chevrolet Accessories to your truck so it is exactly the way you need it to be.
You want the popular Silverado 1500, but you don't quite have the credit score you need to get approved for a loan? Ray Skillman Discount Chevrolet believes everyone deserves the opportunity to own Silverado, which is why we offer the Buy Here, Pay Here option. We approve our customers on their ability to pay, not past financial situations or mistakes.
You shouldn't be punished for your past. Let us help you get financed for your Silverado today. Call, click to chat, or text us, email us, or come by and see us and take home your very own Silverado 1500 today.

New Silverado 1500 Greenwood
Ray Skillman Chevrolet has the perfect new Silverado 1500 model for you. Find it right here, along with unparalleled value.

Pre-Owned Silverado 1500 Greenwood
A luxurious ride like the Chevrolet Silverado 1500 is always in high demand. That's why we carry an exciting selection of pre-owned models.

Incentives and Rebates
Why not enjoy your Silverado 1500 along with the Ray Skillman Chevy Discount? You can have your cake and eat it, too.
Experience the Skillman Difference
Buying a vehicle is a special experience. We understand that this isn't something our customers do every day, which is why we treat every interaction with the respect that it deserves. Ray Skillman has served the Greenwood market for decades because we believe that the community and its people supersede any expectations set by a corporation. This is your community. This is our community. When you are shopping for a new or used vehicle like the Silverado 1500, you expect the experience to match the promise, which is why we are open and transparent every step of the way. Below, you will find more information about the new Silverado 1500. We hope that you'll contact us and allow us the opportunity to show you why buying from the pros at Ray Skillman Discount Chevrolet is simply the best decision you can make.
Ray Skillman Chevrolet Silverado 1500
There's more to a vehicle demonstration than picking out colors and taking a test drive. At Ray Skillman Discount Chevrolet, we want you to know everything that's important to YOU in your next new car. The Silverado 1500 is uniquely positioned in the Indy market to satisfy the needs of practical luxury fans everywhere. The Silverado 1500 has the proper mixture of strong performance and sleek style that's appealing to Greenwood. Our team is here to make sure you're aware of every feature, tip, and maintenance best practice because we take pride in delivering the ultimate shopping experience for our customers. Watch this video to get your engine revving for incredible savings on your new Silverado 1500, and then let Ray Skillman take care of the rest.
Attention to detail is important. You won't miss a thing when you shop at Ray Skillman Discount Chevrolet.
---
We know you have many options when it comes to car dealers in the Indy area. Our hope is that you will give us the first opportunity to earn your business because of the tremendous experience, great pricing, impressive Silverado 1500 selection, and our commitment to making your buying experience the most positive one you've ever had when shopping for a vehicle. We stand behind the ideal of delivering the type of respectful engagement that the people of Greenwood deserve. If you give us the first opportunity, you'll see why our customers come back time and time again.
---
WHY RAY SKILLMAN DISCOUNT CHEVROLET?
Some dealerships take pride in their sales numbers. Others point to their P&L statements to determine their success. At Ray Skillman Discount Chevy, the most important indicator of whether or not we're successfully achieving our goals is when YOU are overwhelmed by our outstanding customer experience. It goes beyond satisfaction. We want you to be ecstatic with the way you were treated and impressed with how easy it was to get the best Silverado 1500 deal in Indiana. Your opinion is the one that matters to us at Ray Skillman Discount Chevrolet. It's what drives our success.
---
Customers Come First
See What Our Customers Are Saying
---
---
Your Silverado 1500 Shopping Experience
We hope we've answered most of your questions about why you should consider Ray Skillman Discount Chevrolet as your first choice when shopping for a new or pre-owned Silverado 1500. If you are ready to learn more, please contact us through your preferred method of communication and ask us anything you'd like to know. If you're ready to schedule your test drive, please use the form below. At Ray Skillman Discount Chevrolet, you control your shopping experience. We're here to help facilitate and to be your personal Silverado 1500 experts.