Buying vs Leasing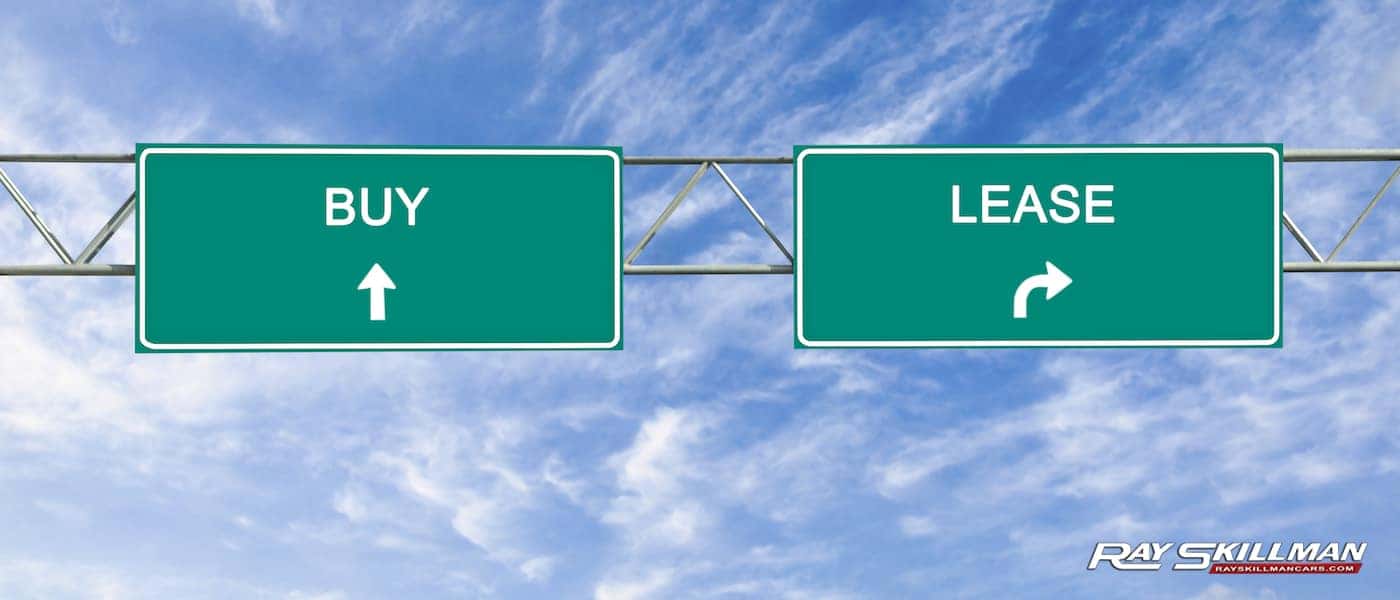 Here at Ray Skillman Chevrolet, we know that the options around deciding whether to buy or lease your new vehicle can be confusing. We've compiled some helpful information to give you the confidence that comes with making an informed decision. Getting a new vehicle is a big decision, and our knowledgeable staff wants you to be as informed as possible.
The most basic explanation is this: If you buy a new or used car, you're responsible for the entire cost of the vehicle. If you lease a new or used car, you're responsible only for a portion of the vehicle's cost, which is the amount you pay monthly while you are driving the car.
APPLY FOR FINANCING CONTACT US
What Does BUYING a Chevrolet Look Like?
Who Owns It
When you buy a car, whether you pay with cash or finance it and make monthly payments, it belongs to you. If you choose to finance the vehicle, you'll have to meet the obligations of your lender, such as a down payment and monthly payment amounts. If you fail to meet these obligations, your lender has the legal right to repossess the vehicle.
Up-front Costs
If you choose to Finance your vehicle, the bank or lender will likely request a down payment from you. Another option is to trade in your existing vehicle and use any equity toward your down payment on your new car. The down payment amount depends on a variety of factors, such as the lender's standard requirements and your credit score.
Future Value
When you buy a car, you are making an investment in your future. The vehicle will be worth whatever you can sell it for in the future, which depends on how well you maintain the vehicle. At Ray Skillman Chevrolet, we're here to help you protect your investment by providing regularly-scheduled Maintenance and Repairs, as performed by our factory trained and authorized technicians.
End of Payments
Once you've completed your payments and paid off the total balance on your lender's contract, that's it! Your new vehicle is not 100% yours. The lender will send a Lien Release as proof that the vehicle is totally paid off. Now your car is safe from the threat of repossession and belongs to you in full.
What Does LEASING a Chevrolet Look Like?
Who Owns It
In the case that you choose to lease your new vehicle, you will not own the car. Leasing means you're paying for your use of the vehicle, but the financial institution you leased it through is the rightful owner of that car. This arrangement allows you to pay a lower monthly amount than if you were to buy the car and finance it.
Up-front Costs
Another benefit of leasing your new vehicle is the fact that most leases do not require any type of down payment. Typically, the costs associated with leasing a car include the first month's payment, a security deposit, an acquisition fee and other fees or taxes. However, similar to purchasing a car, you can often lower monthly payments by putting up more cash upfront.
Future Value
In most lease situations, since you do not own the vehicle, you won't end up selling it. The financial institution that you lease through will handle selling the car at the appropriate time. However, some leases include limits like mileage caps or wear and tear guidelines that can cost you extra money when you return the vehicle to the leasing institution.
End of Payments
While most people return the vehicle at the end of a lease term, you can also choose to purchase it during your lease or when the lease expires. You can also trade it in before your lease ends. No matter what your plan, it's important to ask about all these options before signing any paperwork to ensure your lease is structured the way you want it.
Find the Best Cars to Lease
For most drivers, the best cars to lease are those that retain the highest level of value after the term of the lease. Since these options depreciate less, you pay less overall. Our knowledgeable staff can help you examine the lease ratings on all the Chevrolet's on our lot, including the newest Chevy lineup.