Chevrolet Malibu Shelbyville IN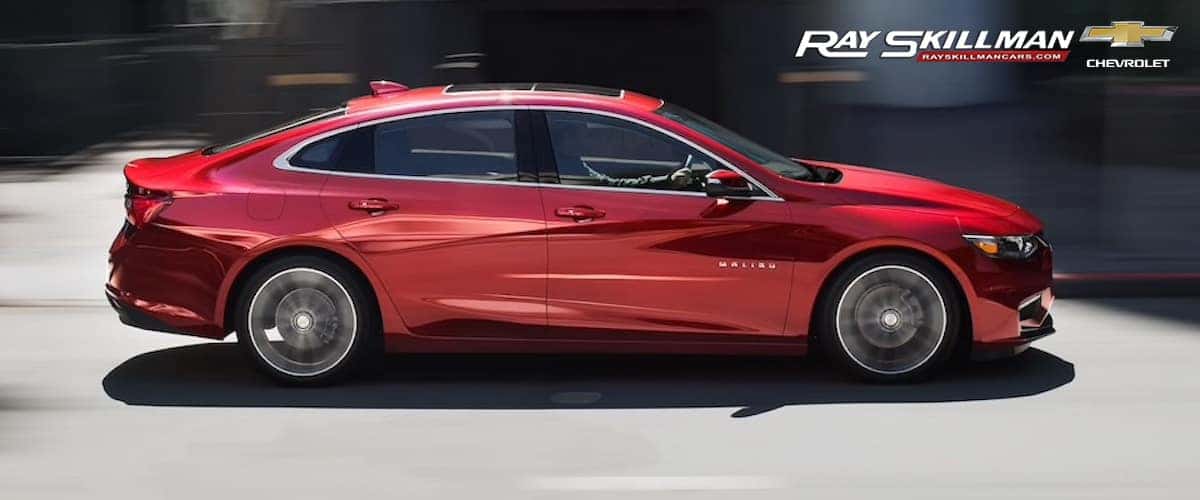 Ray Skillman Discount Chevrolet
The Chevrolet Malibu Just Keeps Getting Better and Better
The Chevrolet Malibu offers style, fuel efficiency and comfort in a mid-sized sedan. Ray Skillman Discount Chevrolet invites their neighbors in Shelbyville IN to come test this classic.
An Enviable Profile
The Chevrolet Malibu has made its mark on the American landscape since it first appeared 50 years ago. But that doesn't stop it from getting better. This redesigned family sedan has sleek, classy look to it that turns lots of heads. But rebuild goes beyond a re-imaging. Chevy has built an impressive suspension that contributes to the cabin's quiet, even ride. It also features improved handling to make it far more responsive. In years past, the Chevrolet Malibu was criticized for its lack of space and headroom in the rear seat. Chevy listened and they fixed that. The back seat is now even more spacious than before, with lots of extra legroom and way more headroom.
Fuel Efficiency Never Goes Out of Style
Perhaps the biggest (internal) improvement has been the Chevrolet Malibu weight reduction of 200 pounds. When combined with a redesigned engine, fuel efficiency rounds out to an admirable 29 mpg overall. The hybrid version bumps that up to the astounding 41mpg overall.
The Chevrolet Malibu isn't your grandma's old-school mid-sized sedan and you deserve to put yourself in the driver's seat. While other brands may grab the spotlight, the beautiful lines and substantial improvements of the new Malibu make it a real contender. Ray Skillman Discount Chevrolet is impressed with the new design. We're just a few miles up the road from Shelbyville IN and we can't wait to show you this great car.
A Final Piece of Magic
When a practical car transforms into something so sporty and slick, its no wonder Chevy added a few extra bells-and-whistles. The option of its panoramic sunroof is this sporty sedan makes a nice addition. It offers all the joyful fun of a convertible, without the bugs-in-your-teeth element. This window in the roof gives you access to the sun and sky. At night, it's wondrous to lie in the back seat and watch the stars and moon drift by.
It's Worth the Drive to Ray Skillman Discount Chevrolet
It will be harder to settle for one of the other sedans after you've driven a Chevrolet Malibu. The sporty look and smooth handling just don't compare. It proves that practical transportation doesn't have to be stodgy. Ray Skillman Discount Chevrolet wants you to experience this great car for yourself. We're just up Hwy 74 from Shelbyville IN. Our selection makes it easy to find the car you need.

New Malibu Shelbyville
Ray Skillman Chevrolet has the perfect new Malibu model for you. Find it right here, along with unparalleled value.

Pre-Owned Malibu Shelbyville
A luxurious ride like the Chevrolet Malibu is always in high demand. That's why we carry an exciting selection of pre-owned models.

Incentives and Rebates
Why not enjoy your Malibu along with the Ray Skillman Chevy Discount? You can have your cake and eat it, too.
Experience the Skillman Difference
Buying a vehicle is a special experience. We understand that this isn't something our customers do every day, which is why we treat every interaction with the respect that it deserves. Ray Skillman has served the Shelbyville market for decades because we believe that the community and its people supersede any expectations set by a corporation. This is your community. This is our community. When you are shopping for a new or used vehicle like the Malibu, you expect the experience to match the promise, which is why we are open and transparent every step of the way. Below, you will find more information about the new Malibu. We hope that you'll contact us and allow us the opportunity to show you why buying from the pros at Ray Skillman Discount Chevrolet is simply the best decision you can make.
Ray Skillman Chevrolet Malibu
There's more to a vehicle demonstration than picking out colors and taking a test drive. At Ray Skillman Discount Chevrolet, we want you to know everything that's important to YOU in your next new car. The Malibu is uniquely positioned in the Shelbyville market to satisfy the needs of practical luxury fans everywhere. The Malibu has the proper mixture of strong performance and sleek style that's appealing to Shelbyville. Our team is here to make sure you're aware of every feature, tip, and maintenance best practice because we take pride in delivering the ultimate shopping experience for our customers. Watch this video to get your engine revving for incredible savings on your new Malibu, and then let Ray Skillman take care of the rest.
Attention to detail is important. You won't miss a thing when you shop at Ray Skillman Discount Chevrolet.
---
We know you have many options when it comes to car dealers in the Shelbyville area. Our hope is that you will give us the first opportunity to earn your business because of the tremendous experience, great pricing, impressive Malibu selection, and our commitment to making your buying experience the most positive one you've ever had when shopping for a vehicle. We stand behind the ideal of delivering the type of respectful engagement that the people of Shelbyville deserve. If you give us the first opportunity, you'll see why our customers come back time and time again.
---
WHY RAY SKILLMAN DISCOUNT CHEVROLET?
Some dealerships take pride in their sales numbers. Others point to their P&L statements to determine their success. At Ray Skillman Discount Chevy, the most important indicator of whether or not we're successfully achieving our goals is when YOU are overwhelmed by our outstanding customer experience. It goes beyond satisfaction. We want you to be ecstatic with the way you were treated and impressed with how easy it was to get the best Malibu deal in Indiana. Your opinion is the one that matters to us at Ray Skillman Discount Chevrolet. It's what drives our success.
---
Customers Come First
See What Our Customers Are Saying
---
---
Your Malibu Shopping Experience
We hope we've answered most of your questions about why you should consider Ray Skillman Discount Chevrolet as your first choice when shopping for a new or pre-owned Malibu. If you are ready to learn more, please contact us through your preferred method of communication and ask us anything you'd like to know. If you're ready to schedule your test drive, please use the form below. At Ray Skillman Discount Chevrolet, you control your shopping experience. We're here to help facilitate and to be your personal Malibu experts.