Chevrolet Equinox Shelbyville IN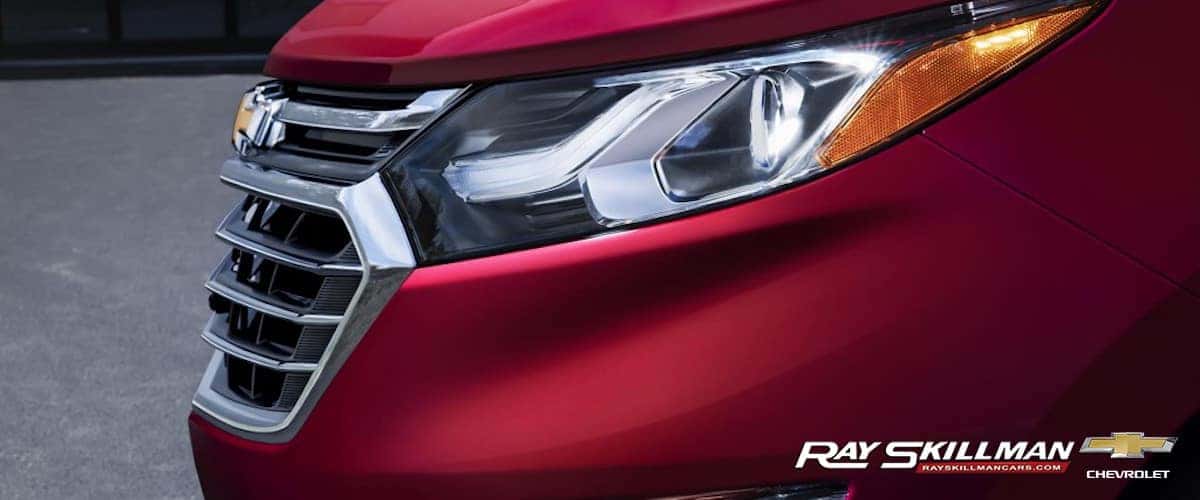 Ray Skillman Discount Chevrolet
Discover the Chevrolet Equinox: the American Brand with an Eye to the Future
The Chevrolet Equinox does not shy away from new ideas and innovations. It's a forward-thinking vehicle with a new, bold design that you'll love.
Ray Skillman Discount Chevrolet would like to see folks from Shelbyville, IN stop by to check out the redesign of this popular compact SUV.
Not Just Another Crossover
The Chevrolet Equinox is a new kind of crossover that isn't afraid to push the envelope. While it seats five comfortably and has a new sculpted exterior, the real changes are more than skin deep.
Diesel: Cleaning Up its Bad Rap
Innovation is the name of the game with the diesel model of the Chevrolet Equinox. It's knocking out a fuel efficiency of 39mpg highway. That's the best-in-class rating for any non-hybrid, non-electric vehicle. Diesel used to be stinky and sooty, but not anymore. Thanks to the dedication of Chevy's diesel team, the Chevrolet Equinox has a sophisticated diesel engine that works with high compression ratio and lean combustion. They've also doubled down on particulate filters to capture errant emissions. The result is remarkably low emissions. The timing and synchronization of this engine have led to a surprisingly quiet cabin. Go figure.
It's time you experienced the Chevrolet Equinox for yourself. It's got everything you need for your family: fuel efficiency, spacious interior, and an amazing redesign. Our large selection at Ray Skillman Discount Chevrolet has always attracted families from Shelbyville, IN. And our prices, financing, and service keep bringing them back.
Safety of the Future
The Chevrolet Equinox continues its innovative streak with its plethora of safety options. Perhaps the coolest feature is the Surround Vision that provides a bird's eye view of the car when you're maneuvering it into tight spots. They also offer Lane Change Alert with Side Blind Zone Alert, Rear Cross Traffic Alert, and Forward Collision Alert. They got your back, Jack.
Amazing Selection. Unbeatable Prices.
Chevrolet Equinox won't let you feel satisfied with a humdrum style. Once you experience the cool precision of this vehicle, other crossovers won't feel the same. Just follow Highway 74 from Shelbyville, IN over to Ray Skillman Discount Chevrolet to see our selection for yourself. We can't wait to show you the future and the full potential of the compact SUV class.

New Equinox Shelbyville
Ray Skillman Chevrolet has the perfect new Equinox model for you. Find it right here, along with unparalleled value.

Pre-Owned Equinox Shelbyville
A luxurious ride like the Chevrolet Equinox is always in high demand. That's why we carry an exciting selection of pre-owned models.

Incentives and Rebates
Why not enjoy your Equinox along with the Ray Skillman Chevy Discount? You can have your cake and eat it, too.
Experience the Skillman Difference
Buying a vehicle is a special experience. We understand that this isn't something our customers do every day, which is why we treat every interaction with the respect that it deserves. Ray Skillman has served the Shelbyville market for decades because we believe that the community and its people supersede any expectations set by a corporation. This is your community. This is our community. When you are shopping for a new or used vehicle like the Equinox, you expect the experience to match the promise, which is why we are open and transparent every step of the way. Below, you will find more information about the new Equinox. We hope that you'll contact us and allow us the opportunity to show you why buying from the pros at Ray Skillman Discount Chevrolet is simply the best decision you can make.
Ray Skillman Chevrolet Equinox
There's more to a vehicle demonstration than picking out colors and taking a test drive. At Ray Skillman Discount Chevrolet, we want you to know everything that's important to YOU in your next new car. The Equinox is uniquely positioned in the Shelbyville market to satisfy the needs of practical luxury fans everywhere. The Equinox has the proper mixture of strong performance and sleek style that's appealing to Shelbyville. Our team is here to make sure you're aware of every feature, tip, and maintenance best practice because we take pride in delivering the ultimate shopping experience for our customers. Watch this video to get your engine revving for incredible savings on your new Equinox, and then let Ray Skillman take care of the rest.
Attention to detail is important. You won't miss a thing when you shop at Ray Skillman Discount Chevrolet.
---
We know you have many options when it comes to car dealers in the Shelbyville area. Our hope is that you will give us the first opportunity to earn your business because of the tremendous experience, great pricing, impressive Equinox selection, and our commitment to making your buying experience the most positive one you've ever had when shopping for a vehicle. We stand behind the ideal of delivering the type of respectful engagement that the people of Shelbyville deserve. If you give us the first opportunity, you'll see why our customers come back time and time again.
---
WHY RAY SKILLMAN DISCOUNT CHEVROLET?
Some dealerships take pride in their sales numbers. Others point to their P&L statements to determine their success. At Ray Skillman Discount Chevy, the most important indicator of whether or not we're successfully achieving our goals is when YOU are overwhelmed by our outstanding customer experience. It goes beyond satisfaction. We want you to be ecstatic with the way you were treated and impressed with how easy it was to get the best Equinox deal in Indiana. Your opinion is the one that matters to us at Ray Skillman Discount Chevrolet. It's what drives our success.
---
Customers Come First
See What Our Customers Are Saying
---
---
Your Equinox Shopping Experience
We hope we've answered most of your questions about why you should consider Ray Skillman Discount Chevrolet as your first choice when shopping for a new or pre-owned Equinox. If you are ready to learn more, please contact us through your preferred method of communication and ask us anything you'd like to know. If you're ready to schedule your test drive, please use the form below. At Ray Skillman Discount Chevrolet, you control your shopping experience. We're here to help facilitate and to be your personal Equinox experts.