2018 Chevy Silverado Indianapolis Indiana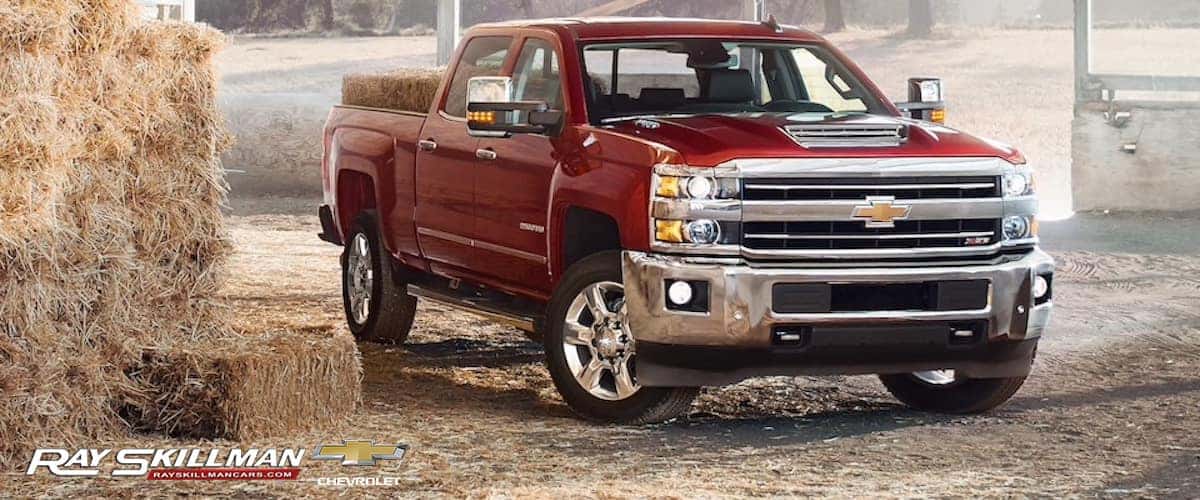 Ray Skillman Discount Chevrolet
The 2018 Chevrolet 2018 Silverado – Bigger IS Better
The 2018 Chevy 2018 Silverado has arrived in Indianapolis, Indiana and we couldn't be more excited. Come see the 2018 Silverado at Ray Skillman Discount Chevrolet today.
If you are ready for the truck that can help you handle it all with ease, then you need the 2018 Chevrolet Silverado. It is capable enough to do all the dirty work while you keep your hands clean and comfortable enough for your next road trip. It even acts as an office on wheels so you can get more done during the workday. Test-drive the 2018 Silverado at Ray Skillman Discount Chevrolet.
The Comfort You Want
Admit it, you may be one tough cookie, but that doesn't mean that you don't appreciate comfort when you hit the road in your truck. The 2018 Chevy Silverado lets the world know that you are a tough guy while keeping you comfortable inside. The plush leather seats not only cushion you where you need it the most, they give you the support you need for a long ride down the road too. The 10-way power adjustable driver's seat with lumbar support ensures you have the ideal driving position for miles down the road while the heated seats and heated steering wheel give you the warmth you want after a long day of working in the cold. You can even use the Remote Start feature to make sure your 2018 Silverado is the perfect temperature before you climb inside, no matter what the weather outside may be. To see the 2018 Silverado's comfort, come down to Ray Skillman Discount Chevrolet and talk to one of our product specialists today.
The Capability You Need
Of course, it is nice to have designer interior inside of your truck, but you also need it to be capable when it is time to work hard. The 2018 Chevrolet Silverado has your back because not only is it comfortable, it is capable too, giving you the best of both worlds. When you need to tow, there is no better truck for the job than the 2018 Silverado. That is because it features the 6.2-liter V8 engine that offers 420 horsepower and 460lb-ft of torque that allows you to tow up to 12,500 pounds without even flinching. That means you can tow materials and tools to the job site, haul feed to the farm, or bring home improvement materials home for the latest DIY project. You can also take your fifth-wheel camper out for a weekend adventure, take the boat or jet skis to the lake, or take the ATVs out for a day of play. You really can do it all in your 2018 Silverado and we can't wait to show you how capable it is at Ray Skillman Discount Chevrolet.
Tech You Expect
With a name like Chevrolet, you have come to expect certain features when it comes to their vehicle lineup. The same is true with the 2018 Chevy Silverado truck. The good news is that the 2018 Silverado offers you the technology you need to not only entertain you but turn your truck into an office on wheels too. The 4G LTE Wi-Fi turns your 2018 Silverado into a mobile hotspot so you can connect your laptop and pull up the latest blueprints at the job site. Android Auto and Apple CarPlay allow you to text your crew to see if you need to pick up more supplies, call ahead to the hardware store to see if those materials are in stock, get directions to the nearest gas station or store, and stream your favorite motivational music. You can also schedule your next job in your calendar and you can do this all with the sound of your voice! Get a demo today at Ray Skillman Discount Chevrolet and see how the 2018 Silverado can help you on the job.
Discover A MASSIVE Selection At Ray Skillman Discount Chevrolet
If you are looking for great selection of trucks in one convenient location then you have to head into Ray Skillman Discount Chevrolet. We have over 60 of the popular 2018 Chevrolet Silverado trucks in stock in a variety of different colors and models and with different options so you can find the one that can help you get the job done. If you aren't sure which truck will work for your job or lifestyle then one of our truck specialists can help you narrow it down based on your towing and hauling needs. Come down and let our truck specialists get started, and then take a 2018 Silverado out for a spin to see if it is the right fit for you. We look forward to serving you.

New 2018 Silverado Indianapolis
Ray Skillman Chevrolet has the perfect new 2018 Silverado model for you. Find it right here, along with unparalleled value.

Pre-Owned 2018 Silverado Indianapolis
An incredible ride like the Chevrolet 2018 Silverado is always in high demand. That's why we carry an exciting selection of pre-owned models.

Incentives and Rebates
Why not enjoy your 2018 Silverado along with the Ray Skillman Chevy Discount? You can have your cake and eat it, too.
Experience the Skillman Difference
Buying a vehicle is a special experience. We understand that this isn't something our customers do every day, which is why we treat every interaction with the respect that it deserves. Ray Skillman has served the Indianapolis market for decades because we believe that the community and its people supersede any expectations set by a corporation. This is your community. This is our community. When you are shopping for a new or used vehicle like the 2018 Silverado, you expect the experience to match the promise, which is why we are open and transparent every step of the way. Below, you will find more information about the new 2018 Silverado. We hope that you'll contact us and allow us the opportunity to show you why buying from the pros at Ray Skillman Discount Chevrolet is simply the best decision you can make.
Ray Skillman Chevrolet 2018 Silverado
There's more to a vehicle demonstration than picking out colors and taking a test drive. At Ray Skillman Discount Chevrolet, we want you to know everything that's important to YOU in your next new car. The 2018 Silverado is uniquely positioned in the Indianapolis market to satisfy the needs of practical luxury fans everywhere. The 2018 Silverado has the proper mixture of strong performance and sleek style that's appealing to Indianapolis. Our team is here to make sure you're aware of every feature, tip, and maintenance best practice because we take pride in delivering the ultimate shopping experience for our customers. Watch this video to get your engine revving for incredible savings on your new 2018 Silverado, and then let Ray Skillman take care of the rest.
Attention to detail is important. You won't miss a thing when you shop at Ray Skillman Discount Chevrolet.
---
We know you have many options when it comes to car dealers in the Indianapolis area. Our hope is that you will give us the first opportunity to earn your business because of the tremendous experience, great pricing, impressive 2018 Silverado selection, and our commitment to making your buying experience the most positive one you've ever had when shopping for a vehicle. We stand behind the ideal of delivering the type of respectful engagement that the people of Indianapolis deserve. If you give us the first opportunity, you'll see why our customers come back time and time again.
---
WHY RAY SKILLMAN DISCOUNT CHEVROLET?
Some dealerships take pride in their sales numbers. Others point to their P&L statements to determine their success. At Ray Skillman Discount Chevy, the most important indicator of whether or not we're successfully achieving our goals is when YOU are overwhelmed by our outstanding customer experience. It goes beyond satisfaction. We want you to be ecstatic with the way you were treated and impressed with how easy it was to get the best 2018 Silverado deal in Indiana. Your opinion is the one that matters to us at Ray Skillman Discount Chevrolet. It's what drives our success.
---
Customers Come First
See What Our Customers Are Saying
---
---
Your 2018 Silverado Shopping Experience
We hope we've answered most of your questions about why you should consider Ray Skillman Discount Chevrolet as your first choice when shopping for a new or pre-owned Silverado. If you are ready to learn more, please contact us through your preferred method of communication and ask us anything you'd like to know. If you're ready to schedule your test drive, please use the form below. At Ray Skillman Discount Chevrolet, you control your shopping experience. We're here to help facilitate and to be your personal 2018 Silverado experts.