2018 Chevy Cruze Indianapolis Indiana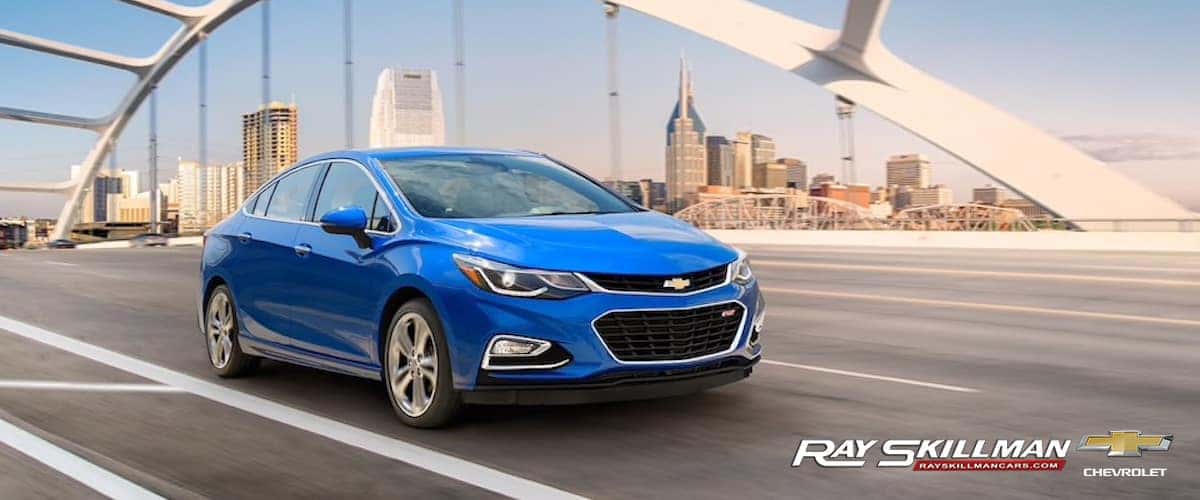 Ray Skillman Discount Chevrolet
Take A "Cruze" Today – The 2018 Chevy Cruze
The 2018 Chevy Cruze is one of the most affordable sedans in Indianapolis, Indiana and it gives you more "bang" for your buck. Take a look at the Cruze when you visit us at Ray Skillman Discount Chevrolet.
Do you crave the luxury that only a high-end sedan can bring but you are on a shoestring budget? There is a solution for you and it is quite impressive. The 2018 Chevy Cruze is a great alternative to high monthly car payments and gives you more impressive features for less than the competition. Come see the Cruze at Ray Skillman Discount Chevrolet today.
Save Money
Luxury doesn't have to cost you an arm and a leg if you are a smart shopper and know where to look. The 2018 Chevy Cruze saves you more money because is affordable, yet packed with features so you don't have to compromise. The Cruze is a great value with a starting MSRP of just $16,975 and you can afford it because this low price offers you low monthly payments. Even fully loaded, the Cruze is below $25,000 and who doesn't love a bargain? What's even better is that the Cruze saves you more money at the gas pump. That's because it has an EPA estimated 52 miles per gallon on the highway when you opt for the Turbo-Diesel engine. You won't have to stop as often to fill up, which not only saves you money, it saves you valuable time too. It's a win-win for you every time! Who doesn't love to save money? We know you do! Let us help you start saving money today at Ray Skillman Discount Chevrolet.
Smart Technology
Would you be surprised to learn that affordable doesn't have to mean lacking features? We know, it is a pretty astonishing concept, but Chevrolet has it figured out. It is possible to get smart technology in an affordable sedan when you choose the 2018 Chevrolet Cruze. Imagine if you could get turn-by-turn directions with real-time traffic updates so you can find the fastest route to work so you won't have to be late even when there is an accident. Imagine if you could send a text message to your co-worker and ask them if they want you to pick up some coffee on the way to work. Then, imagine you can call home on your way home from work to see if you need to swing by the grocery store. Guess what? You can! Thanks to the Android Auto and Apple CarPlay features that allow you to accomplish all of this with the sound of your voice. You can also schedule appointments in your calendar and stream music. Are you intrigued? Come see us at Ray Skillman Discount Chevrolet for a demo today.
Preventative Safety
By now, you are probably blown away by everything that the 2018 Chevy Cruze has to offer, but wait, we aren't done yet! Hold onto your hats folks because the Cruze offers preventative safety features that can help you drive with confidence. These accident avoidance technologies make driving safer for everyone inside and outside of the vehicle. It has never been easier or safer to change lanes thanks to the Lane Change Alert with Side Blind Zone Alert and you can back out of spaces with confidence thanks to the Rear Cross-Traffic Alert too. The Forward Collision Alert lets you know when it is time to hit the brakes and create more space so you can avoid hitting the car in front of you. These are just a few of the available accident avoidance and safety features available on the Cruze. For more information, come see our product specialists at Ray Skillman Discount Chevrolet.
You Can Afford The Perfect Cruze Here At Ray Skillman Discount Chevrolet
Many people may be discouraged when they think of buying a new Chevrolet vehicle because they don't think they can afford a new car. We are here to tell you to stop being a negative Nancy because you can afford the 2018 Chevy Cruze. We give you the lowest prices around town so you always know you are getting a great deal when you shop with Ray Skillman Discount Chevrolet. And for those that don't think they can get financed, we say think again! That's because we offer our Buy Here, Pay Here program for those that may have less than stellar credit history. Come down and see us at Ray Skillman Discount Chevrolet and drive home in your Cruze today!

New 2018 Cruze Indianapolis
Ray Skillman Chevrolet has the perfect new 2018 Cruze model for you. Find it right here, along with unparalleled value.

Pre-Owned Cruze Indianapolis
An incredible ride like the Chevrolet Cruze is always in high demand. That's why we carry an exciting selection of pre-owned models.

Incentives and Rebates
Why not enjoy your 2018 Cruze along with the Ray Skillman Chevy Discount? You can have your cake and eat it, too.
Experience the Skillman Difference
Buying a vehicle is a special experience. We understand that this isn't something our customers do every day, which is why we treat every interaction with the respect that it deserves. Ray Skillman has served the Indianapolis market for decades because we believe that the community and its people supersede any expectations set by a corporation. This is your community. This is our community. When you are shopping for a new or used vehicle like the 2018 Cruze, you expect the experience to match the promise, which is why we are open and transparent every step of the way. Below, you will find more information about the new 2018 Cruze. We hope that you'll contact us and allow us the opportunity to show you why buying from the pros at Ray Skillman Discount Chevrolet is simply the best decision you can make.
Ray Skillman Chevrolet 2018 Cruze
There's more to a vehicle demonstration than picking out colors and taking a test drive. At Ray Skillman Discount Chevrolet, we want you to know everything that's important to YOU in your next new car. The 2018 Cruze is uniquely positioned in the Indianapolis market to satisfy the needs of practical luxury fans everywhere. The 2018 Cruze has the proper mixture of strong performance and sleek style that's appealing to Indianapolis. Our team is here to make sure you're aware of every feature, tip, and maintenance best practice because we take pride in delivering the ultimate shopping experience for our customers. Watch this video to get your engine revving for incredible savings on your new 2018 Cruze, and then let Ray Skillman take care of the rest.
Attention to detail is important. You won't miss a thing when you shop at Ray Skillman Discount Chevrolet.
---
We know you have many options when it comes to car dealers in the Indianapolis area. Our hope is that you will give us the first opportunity to earn your business because of the tremendous experience, great pricing, impressive 2018 Cruze selection, and our commitment to making your buying experience the most positive one you've ever had when shopping for a vehicle. We stand behind the ideal of delivering the type of respectful engagement that the people of Indianapolis deserve. If you give us the first opportunity, you'll see why our customers come back time and time again.
---
WHY RAY SKILLMAN DISCOUNT CHEVROLET?
Some dealerships take pride in their sales numbers. Others point to their P&L statements to determine their success. At Ray Skillman Discount Chevy, the most important indicator of whether or not we're successfully achieving our goals is when YOU are overwhelmed by our outstanding customer experience. It goes beyond satisfaction. We want you to be ecstatic with the way you were treated and impressed with how easy it was to get the best 2018 Cruze deal in Indiana. Your opinion is the one that matters to us at Ray Skillman Discount Chevrolet. It's what drives our success.
---
Customers Come First
See What Our Customers Are Saying
---
---
Your 2018 Cruze Shopping Experience
We hope we've answered most of your questions about why you should consider Ray Skillman Discount Chevrolet as your first choice when shopping for a new or pre-owned 2018 Cruze. If you are ready to learn more, please contact us through your preferred method of communication and ask us anything you'd like to know. If you're ready to schedule your test drive, please use the form below. At Ray Skillman Discount Chevrolet, you control your shopping experience. We're here to help facilitate and to be your personal 2018 Cruze experts.